Home
(Archived page)
Japan NamaYasai LLP
We are greatly troubled since news reached us on Friday 11th March of the unprecedented natural disaster that has hit Japan. Our hearts and minds are constantly with the Japanese people who are suffering at this moment and we cannot continue easily with our own daily life knowing it's inconsequence compared to what has happened. We have worked with and welcomed to our home many people from Japan over the last few years and the loss and suffering in Japan now feels like pain in our own family. Our deepest sympathy is with the Japanese people.
Japan Society Tohoku Earthquake Relief Fund
Support Community Hida - Tetsuya Kawakami leading rescue efforts in Japan - more details here.

15th March a big thank you to Hamsey School parents who bought our produce and made donations - £137.10 raised!
17th March a big thank you to the people of Lewes who came to St Pancras Stores to buy our produce and make donations - £109 raised!
20th March our gratitude to the people of Lewes who purchased our bags of seasonal salad and made donations outside Waitrose this morning - £192 raised!
23th March thank you to everyone who made a special trip to Koya in London today - every penny of the £768.76 raised will be added to the charity fund and we now expect to transfer over £1,500 to the charity account in Japan at the end of this week.
28th March a total of £1,667.16 was today transferred from Namayasai LLP to the NPO Houjin Support Community Hida account with Juroku Bank in Takayama-shi, Gifu, at an exchange rate of 127.79. Check here. for an update on the use of these funds.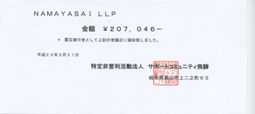 Last Updated: 12th April 2011