1st kyuuri: harvested late at 510g and 29cm
How to Enjoy it:
Eat raw or cooked.
For pickling, roll in salt, put into a container and press with a weight overnight.

July 2006 update: definitely much sweeter (truly delicious!) than English cucumbers but the number of seeds is roughly the same, unless harvested very young.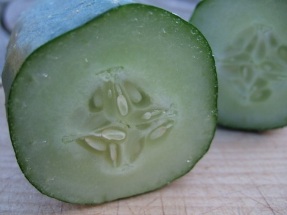 Cut 14th July and tasting very sweet