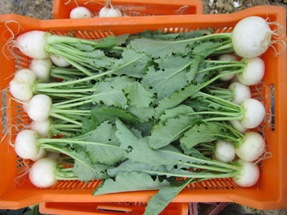 Fresh kabu 11th May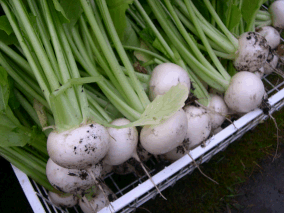 Kabu harvested 2nd July
Nutritional Information:
The leaves are more nutritious than the roots and are an excellent source of calcium and the vitamins A, C and K.
100g leaves contain:

330 mg potassium
250 mg calcium
42 mg phosphorus
2800 µg beta-carotene
41 µg cryptoxanthin
230 µg retinol
82 mg vitamin C
340 µg vitamin K
100g root contains:

280mg potassium
24 mg calcium
28 mg phosphorus
19 mg vitamin C
How to Enjoy it:
Slice the raw root and mix in a salad, cook in a stew or cut into bite-sized pieces and roast in the oven for 15 minutes. Leaves taste good in soup, can be cooked in boiling water for 1 minute and eaten like spinach, or the young leaves can be eaten raw in a salad. The red kabu - both root and stems - keeps their beautiful colour even after cooking.