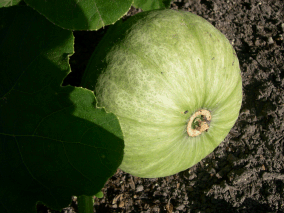 How to Enjoy it:
Kabocha is much denser and sweeter than other pumpkins, the closest alternative being Butternut Squash. A very sharp knife is required to cut through the hard skin and the flesh will be revealed as vivid orange in colour.
For simplicity, bake in the oven. The skin is edible and should not be removed - just cut the kabocha into segments and remove the core of seeds before placing on a tray in an oven for 20 to 30 minutes at 180 degrees celsius.
Make into a soup. Remove the skin then cook in soup stock until tender. Puree and add milk or cream, serve with mitsuba or other herbs.
Cook by baking or steaming then serve cold mixed with salad.
Make into pumpkin pie or other desert, adding sugar or coconut milk to taste.
Kabocha 'HK' 7th September 2005